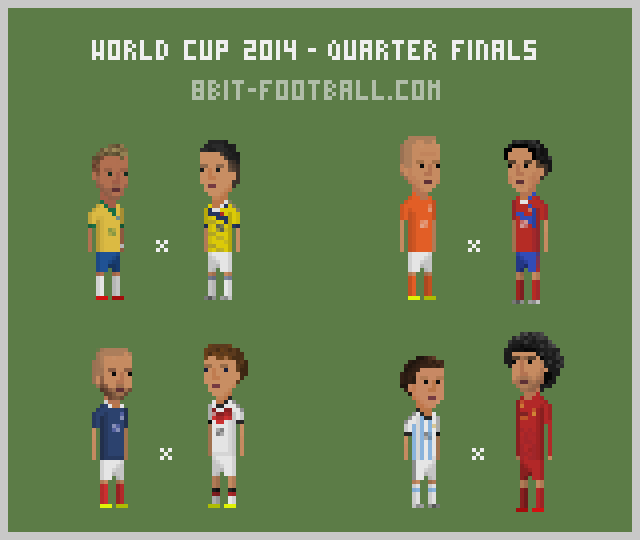 There are few things I enjoy more than philosophy. Soccer is probably the only thing…and maybe beer. So this week I decided to merge the two (three if you consider I was enjoying some hoppy goodness while composing this light-hearted post). A friend from college recently sent me this comic, which is a take on the old Monty Python sketch. As undergrad philosophy major, I really dug it:
For those of you who are unaware, here's the Monty Python sketch:
So yesterday morning ahead of the USA playing Belgium, I decided to create a Starting XI for the teams heading into the Round of Eight.
First, the huge match between France and Germany. In the world of football and in the world of philosophy, these are powerhouse nations. With such a deep pool of talent, I've created what I think would be the 'best-of-the-best' squad for each nation. But I would love to see others' ideas.
As you can imagine, the German attack might be frustrated by the French defense. However, the German defenders, I feel, could more than cope with the inconsistent and somewhat selfish play of the French strikers.
Predicition: France 3-2 AET
From this point on, things get dicey. Brazil and Colombia are lacking in world class philosophers. I had to pad the squads a bit with non-conventional philosophers–novelists, poets, critics, journalists, and essayists. I tried to do my best.
Perhaps some surprising call-ups. For Brazil, Paulo Freire is the midfield linchpin; if he plays poorly, then the whole squad plays poorly. However, relative unknown striker Vilem Flusser could surprise many pundits. On the Colombian side of things, world superstar Gabriel Garcia Marquez is perhaps the most dynamic and beloved footballer since Maradona.
Prediction: Brazil 1-1 (5-3 penalties)
While a long time soccer power, Holland is only a low-to-middling philosophy power. But the stars it does produce shine bright. If playmaker Baruch Spinoza can find the youthful forward Bas Haring, then the Dutch have a real chance. Costa Rica, on the other hand, are just happy to be here. Their fluid attack might just be able to wear down old man Desiderius Erasmus in goal. And centerback and team captain Carlos Gagini could create some magic on set pieces.
Prediction: Netherlands 2-0
I had hoped that Switzerland and the USA would've advanced simply because I think it would have been easier for me to create a team of strictly philosophers. Imagine the dynamism of Hans Kung and Carl Jung out on the wings or how much of a beast the USA would be with John Rawls in goal. In any case, we are left with Argentina and Belgium. So let's see what we can create– 
Nearly all the pundits agree that striker Ernesto Laclau will have to carry Argentina on his back. The diminutive forward will definitely antagonize the Belgian defense, but the fluid and stunningly creative midfield trio of Maliandi, Maldonado, and Moledo will be looking to make chances at every turn and could dominate the match.
This is especially true if  Belgium's Arnold Gelulincx and Justus Lipsius continue with their languid and almost indifferent play. By contrast, the vision of playmaker Wilfred Desan and the near religious devotion to goal scoring that forward Louis Dupre has had this World Cup could definitely make up for it. Belgium's hopes might come down to the will of august goalkeeper Henry of Ghent and his ability to direct and motivate his backline.
Prediction: Belgium 2-1
So we'll have to wait and see how this quarterfinal plays out. I think there could be some surprises and, perhaps, some grand collapses.